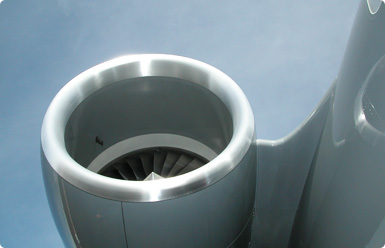 Since the first SkyWest Airlines flights took to the sky in 1972, the airline has put its "Safety First" motto to work. On a daily basis, the airline's more than 14,000 aviation professionals utilize their extensive training and skills to safely transport thousands of people aboard flights across North America. This dedicated SkyWest team has built an exceptional safety record and recognizes the importance of its continued advancement. To that end, SkyWest utilizes advanced technology and innovative safety programs to continually lead the industry. When you board a flight operated by SkyWest Airlines, you can fly with peace of mind.
Airline Safety Rates
SkyWest Airlines provides safe, reliable air travel for approximately 2.5 million people each month to destinations throughout North America.
Choosing to fly or drive? Hop onboard. Whether you're on a regional airline or a major airline, you are 32 times safer flying.
The 2016 global jet accident rate (measured in hull losses per million flights) was 0.39, which is equal to one accident for every 3.7 million flights.
Flight Crews
SkyWest flight crews are some of the most experienced and thoroughly trained in the entire airline industry. Each new SkyWest pilot averages 3,000 to 4,000 hours of flight time, including many who have more than 10,000 hours of flight time.
Our pilots have the highest rating that can be obtained and must complete an extensive training course, including flight simulator training, before flying for SkyWest. All pilots continue their training at frequent and regular intervals each year throughout their careers at SkyWest.

SkyWest adheres to stringent federal regulations for crew rest, and the airline takes very seriously its shared responsibility of well-rested professionals with its crewmembers.
Aircraft Technology
SkyWest Airlines operates four different aircraft types: the Bombardier-manufactured Canadair Regional Jet (CRJ) 200, CRJ700 and CRJ900, along with the Embraer-manufactured E175. Each aircraft in the SkyWest fleet is designed with the latest safety features including: Ground Proximity Warning System (GPWS), Global Positioning System (GPS) and Traffic Alert and Collision Avoidance System (TCAS).
GPWS is a warning system designed to alert pilots when an aircraft is not in the proper landing configuration as it approaches the ground. It also detects terrain ahead of and below the aircraft, and warns pilots when there's an obstruction ahead.
The GPS technology aboard SkyWest aircraft uses satellites to calculate its position in order to maintain the highest level of safety in the mountainous airports that SkyWest serves.
A new, more advanced radar system, TCAS is the same equipment used in air traffic control towers to detect the position of aircraft in a given area. SkyWest Airlines participated in developing this technology that provides a warning to pilots if another aircraft is too close, or if there is a chance that their flight paths may cross.

Maintenance Professionals
To ensure SkyWest aircraft operate at the highest level, SkyWest mechanics must be A&P (Airframe and Powerplant) certified. Each maintenance professional also receives thorough, ongoing training to ensure they remain current on the industry's best practices.
Every SkyWest aircraft meets or exceeds all Federal Aviation Administration and manufacturer maintenance requirements. All mechanical parts are consistently inspected for proper function and the aircraft itself is inspected for structural integrity on a regular and continuing cycle.

Safety Programs
SkyWest is focused on remaining at the forefront of aviation safety and that is one of the primary reasons we are implementing a Safety Management System (SMS). Our SMS includes a variety of programs that are designed to identify, address and prevent potential problems. Current safety programs at SkyWest include the Aviation Safety Action Program (ASAP), Flight Operational Quality Assurance (FOQA) and Safety Concern Reporting (SCR).